Heat continues in the app market with 8% growth of e-commerce apps
2016-06-17
In India, May and June are said to be the hottest months, with a record high temperature as high as 51℃ in the Rajasthan region. Interestingly, this soaring temperature also drives the download of apps, as suggested by 9Apps Trends. The newly launched 9Apps Trends of May, coming from the house of 9Apps, the no.1 third-party app store in India, has offered us a glimpse on how the app market and mobile users react to the heat in India. This extensive report is an outcome of big data generated by its huge user base. Below are listed some major trends that will drive the app market in 2016 in India:
1. 5% overall month-on-month growth
WhatsApp Messenger ranked 1st on 9Apps with 680 thousand times daily average downloads. 9Apps Trends also witnessed a fierce competition in the Top 10 & Top 100 rankings. With 19 apps ever rising up in India's Top 10 App ranking in May, only 5 of them remained with steady popularity within the Top 10. Top 100 competition is even more active with as many as 204 apps rising in the Top 100.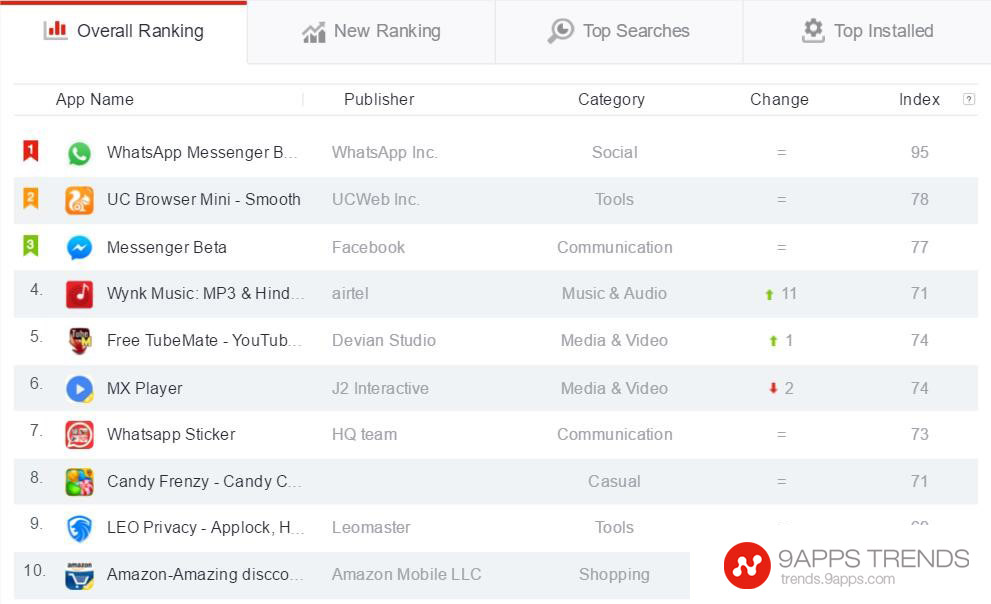 2. Trends towards downloads of O2O and weather apps
High temperature leads to the change of local residents' lifestyle, leading to a higher demand of downloading shopping and traveling apps. There is a rising trend of users to stay indoors and use e-commerce apps to complete their consumptions. The O2O apps attributed to a growth of 8% from the previous month, which accounts to a 5% higher overall growth.
This weather also gives a preference for travel apps when considering outdoor activities. 9Apps Trends show that in the 3rd week of May, the year-on-year growth of downloads of India's most popular travel apps Ola and Uber has surpassed 28%, together with their rise of the overall ranking as well. It should be noted that in India the local travel app Ola has a larger market share than international giant Uber.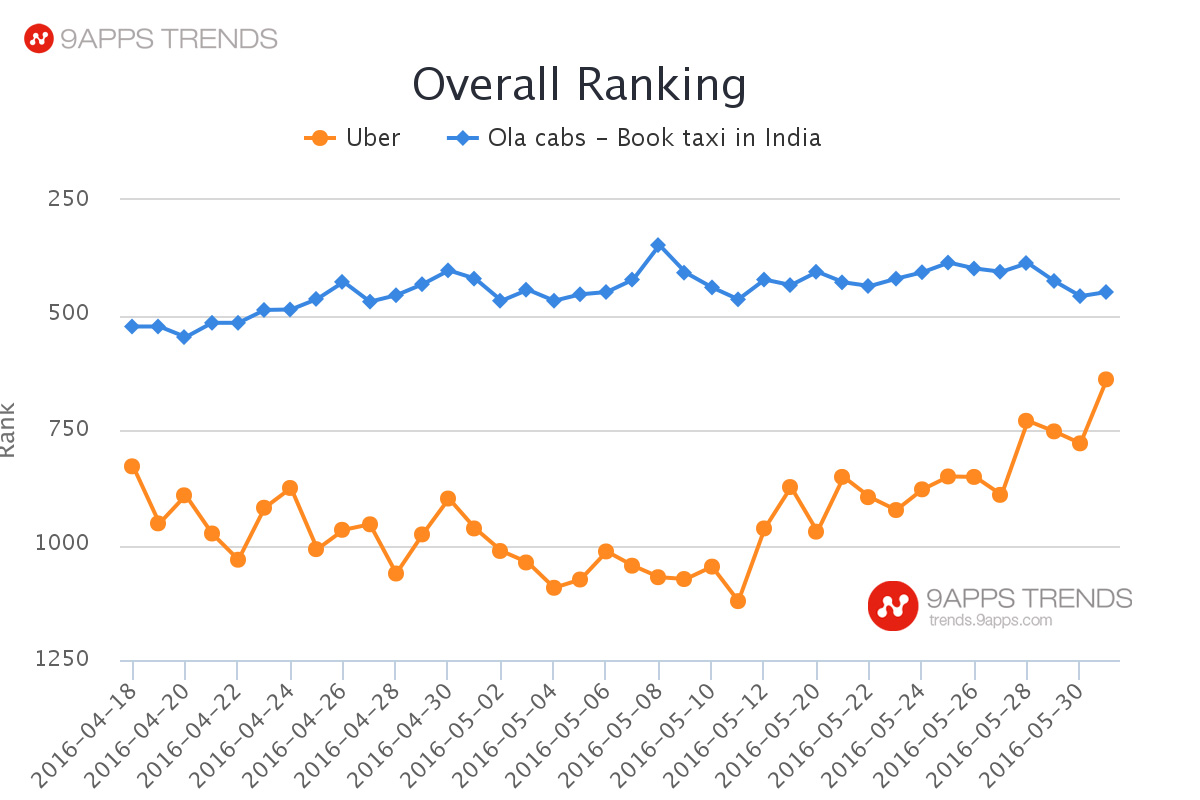 In addition, the statistics also prove that the downloading trend of weather apps remain consistent with the climate change. Take Weather app as an example, its download reached a peak when the highest temperature was recorded on May 21st.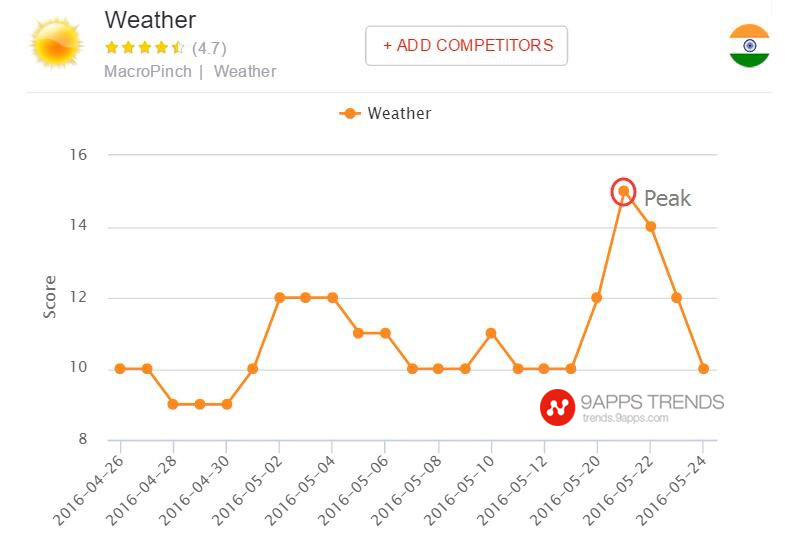 3. Apps related to temperature become popular and Finger Body Temperature Prank stands out
Many app developers also make good use of "high temperature" and develop different kinds of small apps. In May, 17 apps that are relevant to "cooling" entered Top 5000 downloads attributing to an overall 100% increase. In the Indian market where lower-cost smartphones cover a substantially bigger market share, hot weather can cause a decline in the performance of smart phones, which leads to emergence of many cooling apps. However, the one that tops New Ranking is Finger Body Temperature Prank, a prank app that calculates your fake body temperature by finger print scanning. Long days of hot weather seem to be a good chance for prankster to play pranks on others, which helps to create some fun among the youngsters in such hot summer.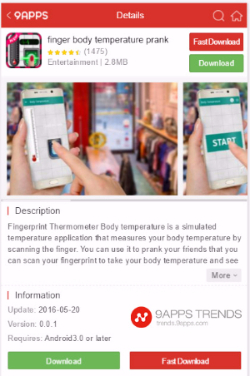 4. Summer vacation comes and racing games become students' favorite.
Summer vacation has kicked off at some schools already. There is no better way to rest than playing mobile games at home in such hot summer for some students. Statistics show that simple but exciting games are mostly preferred by India's young users as they stimulate pleasure. Among these, car racing games are the most popular. According to 9Apps Trends, the daily download of car racing games surpassed 120 thousand, covering half of the Top 10 mobile games.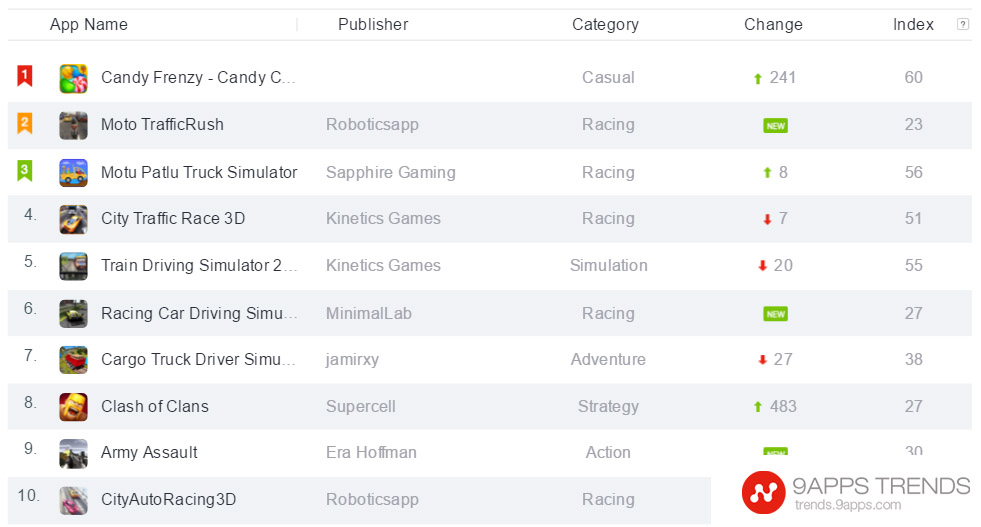 l About 9Apps & 9Apps Trends.
9Apps is a globally popular Android App Distribution Platform, serving over 250 million monthly active users around the globe and has strong presence in India, Indonesia, Russia, Brazil, Southeast Asia, Middle East and other emerging markets. 9Apps is a major product of UCWeb - a business within Alibaba Mobile Business Group.
9Apps Trends is a public web facility of 9Apps. It offers best-in-class data analytics products & services and the most insightful mobile industry analysis to accelerate your success with the value of data.